Dumaguete, the city on Negros island, for us, living on Siquijor, is the kind of window to the civilized world. The city is big enough to have its big shopping mall, actually two, and if only we cannot get something on our small island, we catch the ferry and after 1,5 hours can buy anything in Dumaguete.
Unfortunately, as in case of any bigger Philippine city, there is enormous traffic and unbearable noise level. All in all one or two days spent there allow me to recall what the "civilization" really means…
Generally speaking that could be everything about this place, as there is nothing else interesting worth to mention. Usually shopping takes 80% of time spent in Dumaguete and the only way to visit nice places is to go to cities or villages nearby. One of them is pleasant Valencia, which is situated in the mountains, about 20 minutes motorbike drive from the city centre. The other one not so far away (about 30 minutes drive) is coastal Dauin with beautiful coral reefs and nice beach to relax.
It is important to return the fairness to the city though, because it has one serious advantage over the small island – it offers almost all types of international cuisine! As mentioned above Dumaguete is big city and many internationals moved in there and opened restaurants serving their national dishes.
During last five months I have visited Dumaguete regularly and each time tried to test different restaurants to choose at least best five, which meet the needs of my taste buds the most. So, here is the list of my personal "Top 5":
Fish 153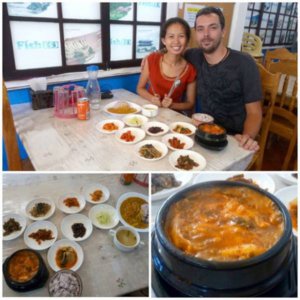 Korean restaurant and shop with Korean products. It doesn't look particularly interesting from the outside,
but it's only appearances. Restaurant offers really delicious food for little money. It was first experience with Korean food for me and I definitely fell in love with it. Simply ideal for me! Fish 153 is located about 500 meters from the ferry port and it's only walking distance from idle waiting for the ferryboat. It is worth to mention too, that you can get any amount takeaway kimchi there, so I always bring a lot with me back to Siquijor.
2 Story Kitchen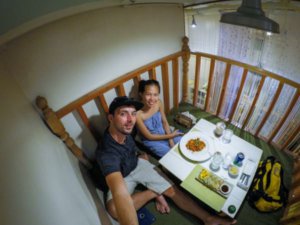 Another Korean restaurant, really interesting place to be. Food is good and inside you will find small spaces located on two floors ensuring lots of privacy when meeting friends. You can sit cross-legged and relish your meals feeling like in your own dining room. Prices are higher than in Fish 153, but that place is absolutely worth visiting and choosing anything from the menu.
Hayahay
Everybody who lived or spent longer time in Dumaguete knows that place very well. It is not only restaurant nicely situated by the sea, but also very popular meeting point for locals. It is huge place but quite often there are no free tables at all. Hayahay is famous for its seafood and there is nothing to complain about the food really. Prices are reasonable and service is very good. Personally, the only thing I do not like about this place is the fact it is usually crowded and noisy, so you hardly hear your own thoughts.
Moon Cafe
When you are visiting Robinson shopping mall it may be a good idea to step in to Moon Cafe located behind the Robinson. They offer excellent Mexican food with reasonable prices considering the location. While shopping I usually drop in to have nachos or fresh fruit juice.
Mifune Japanese Restaurant

Last but not least in terms of its offer is Japanese restaurant, which I visited only once so far. I was impressed and I'm 100% sure I will come there again and again. Delicious warm sake, massive food portions, varied menu… Although Mifune is not the cheapest restaurant, it will neither kill ones budget nor disappoint anybody who likes Japanese cuisine.