I still have about two weeks to my wedding here, in the Philippines, but already today I can share some information regarding total costs of the event. Many people sent me private messages and asked if and how costs are comparable to what should be paid in Poland. Well, the answer is easy – it's impossible to compare, at least because the whole event is completely different. Also many services are much cheaper then their equivalents in Poland and let alone other European countries.
What are the major differences?
The most significant information both for you and you wallet is that Filipino wedding reception never lasts all night. It usually ends about 10 pm or even earlier! After official ceremony guests join the wedding dinner, usually served as a buffet, so everybody can choose what they prefer. Weeding and weeding party can take place in any day, not only weekends, and that is really convenient as you can easily book your favourite venue and do not have to plan months or even years ahead like it happens in my country.
Wedding hall and wedding reception
As it was mentioned above during wedding reception there is only one big meal served. All hotels and resorts have special wedding menu sets in their offer. Set price is provided per person, for example 350 PHP per person and contains few dishes + rice + beverage. Depends on how many guest are coming, final price is calculated accordingly. Price range is quite wide – the cheapest sets I saw in really nice venue started from 250 PHP (about 5 USD) per person, the most expensive reached 900 PHP (about 17 USD). My fiancée Christine has chosen set worth 500 PHP and the choice was made because of specific venue. With the number of our guests choosing that set we were offered wedding hall rental, chairs and tables decoration with no extra fee. The wedding hall is available for 4 hours and any time extension will be paid extra 1000 PHP per hour. Absolutely reasonable price I have to say. In our case the total cost of wedding dinner will reach 100k PHP (about 1850 USD). Why so much? Well, Christine's family is a small one – 150 people "only"! I will have about 50 guests, so we invited 200 people in total. With such guests quantity we were offered another extra bonus – an excellent quality bridal suite!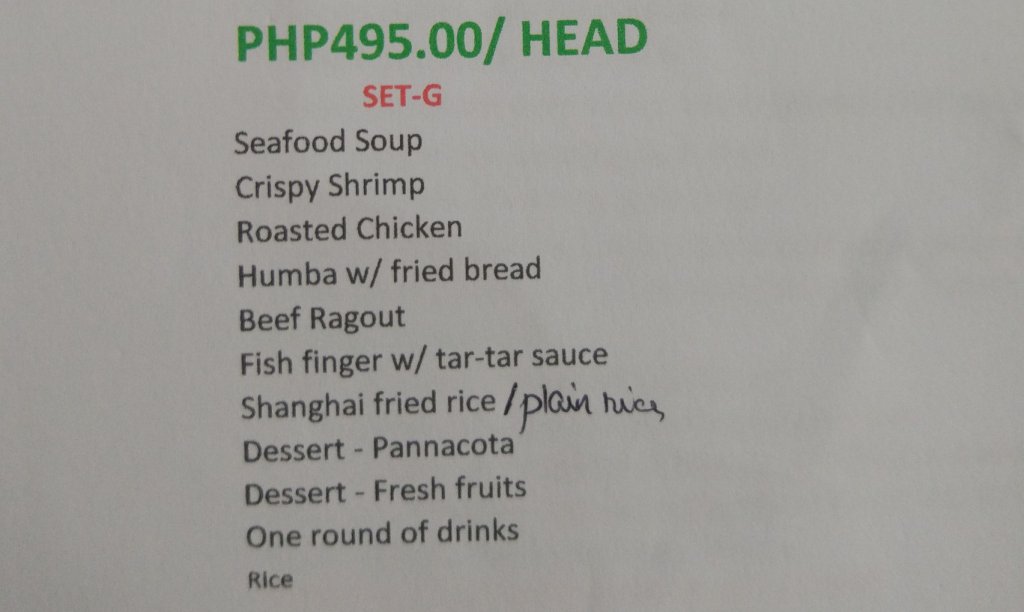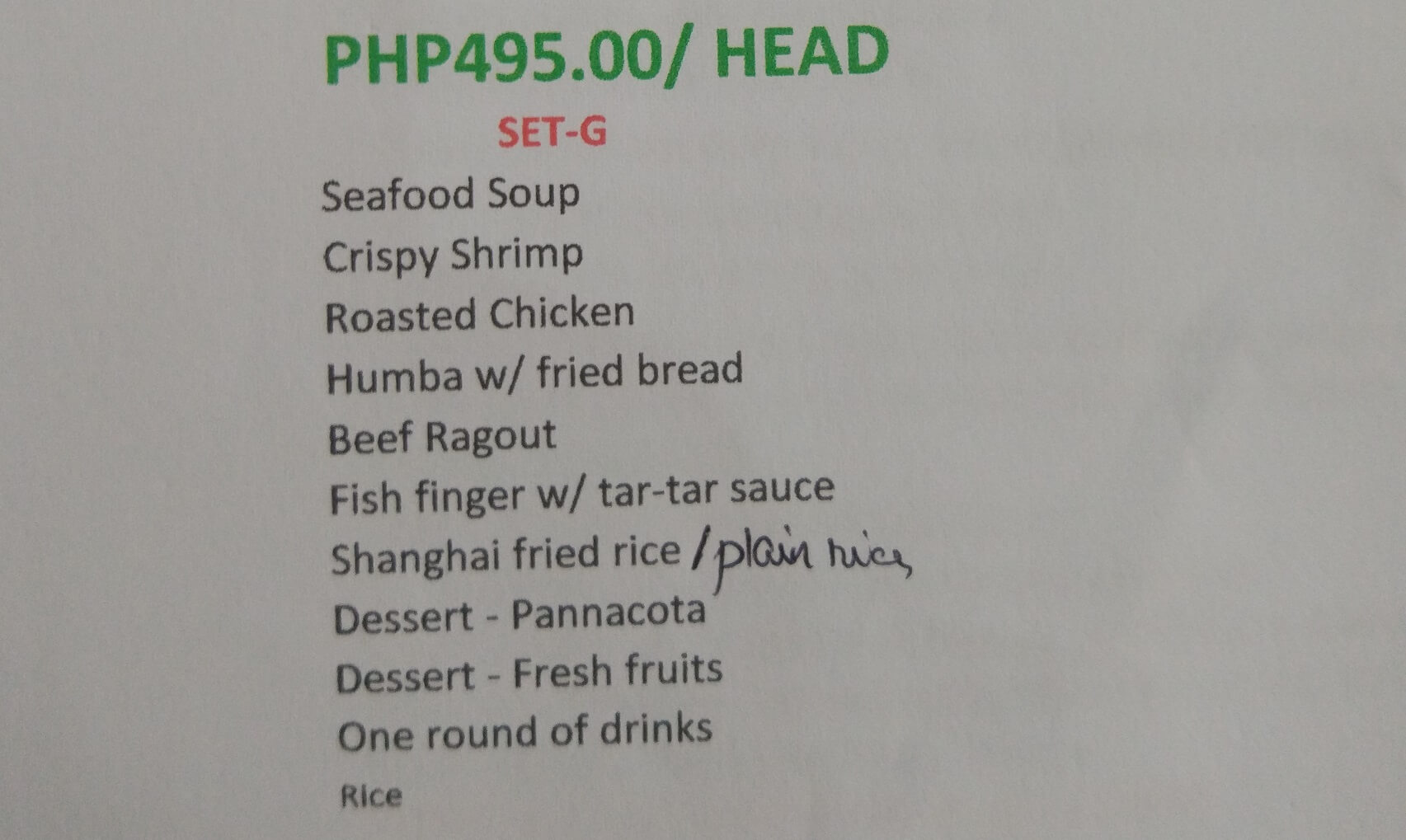 The church
It was our mutual agreement at the very beginning, that we will have church wedding. We are both Catholics. Well, me in a "Polish way" a bit, but still. Such, let's call it pleasure in The Philippines is not "pay what you will" deal – there is very specific price list. In our case, the price in a chosen, big and bright church was 8000 PHP (about 150 USD). I have to admit that was shocking for me, because such price for typical Filipino is simply insane.
Church and venue decorations
Few months ago together with Christine we decided for visiting hotels and resorts, one by one, to find and choose the best for us for wedding reception. In one of them we met one "Bajut" (man wearing women's clothes). Christine learned from him that in this resort we were, he was working on wedding decorations as someone's wedding was planned there the same day. His work and its outcome were really impressive! Plenty of flowers and other decoration elements, which I cannot even name, made me truly fascinated. After short conversation we hired him to be our decorator, too. Total cost for decorations in the church and the venue 25k PHP (460 USD).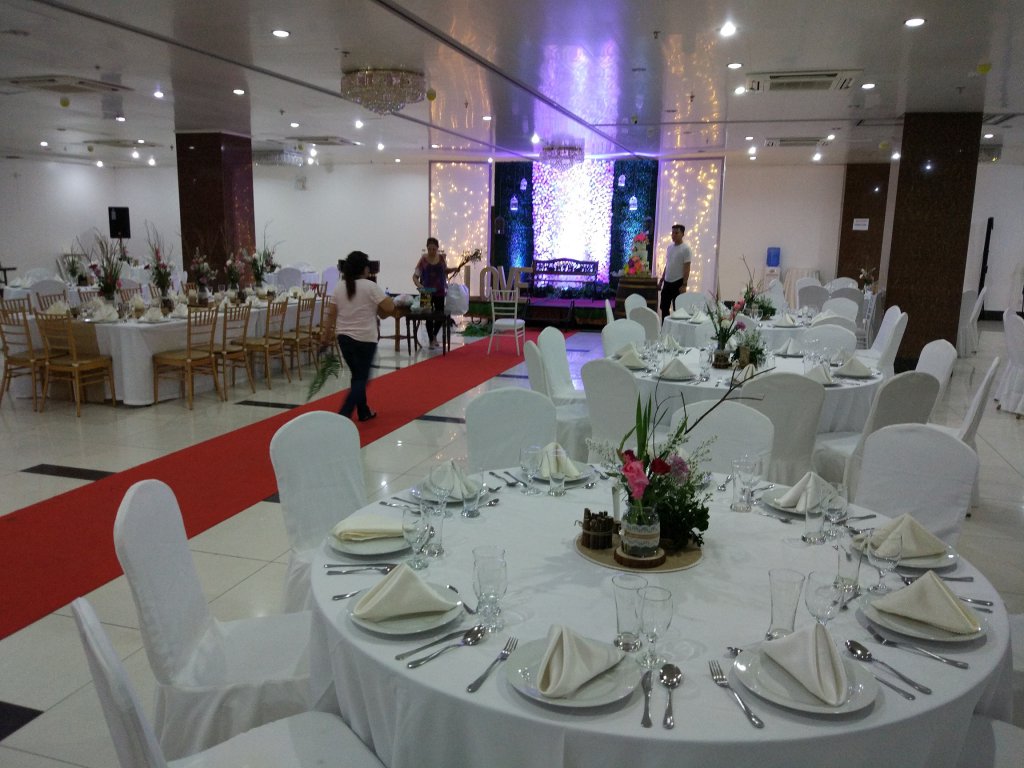 After party
There will obviously be guests from Poland for the wedding, as well as few Filipino, who are not the ones ending party at 10 pm. To make my own wedding celebration closer to my heart we wanted to find any venue we could continue after official part, preferably till the morning. It took us a lot of time with no success. It seemed that is not standard service here and we were offered time up to midnight only. For anyone who attended at least one Polish wedding party, midnight often means beginning, not the end…
And again the same man wearing women's clothes suggested us the ideal solution – rent one floor in the disco club for you only, he said. I initially thought in that case we would have to pay lots of money but I was told 10k PHP (about 190 USD), and what is the most interesting – all consumable in the bar!
We were lucky because our wedding was planned on Thursday and there were any problems with booking. That way, just after official dinner, the smaller group of people will properly celebrate first Polish wedding party in The Philippines.
Photographer and cameramen
At the beginning I was not enthusiastic at all about photography and filming service because I really don't like when someone is taking photos of me, however Christine was enough stubborn to force this idea. She has friends with professional film studio and they rent the whole team of professionals. That way we will have 5 people with us – 3 cameramen and 2 photographers – from the preparation, through ceremony at the church and then, during official dinner. Total cost 12k PHP (220 USD). And that is nothing comparing to what one has to pay in Poland. As experienced wedding photographer I literally do not know anybody who would agree to take wedding pictures or movie for such money.
Below you can find summary of all the costs, including few additional items I haven't mentioned above.
[table id=6 /]